news
KCCU Announces OMG! My Car is Free? Raffle Winner
September 16, 2021
We are thrilled to announce the winner of our recent auto promotion, OMG! (Oh my gosh) My Car is Free? Raffle. The Raffle ran from June 1 – August 31, 2021. Everyone who financed a new or used car, truck, motorcycle, RV or Boat of $7,500 or more were automatically entered in the drawing for a chance to have their loan paid off, up to $20,000.
KCCU member/owner, Margaret, is the lucky Raffle winner! KCCU's CEO, Tracy Miller, accompanied by several KCCU Team Members arrived with an OMG! Raffle poster, big check, pompoms, and clappers, to surprise Margaret at the KCCU Beckley Road Branch in Battle Creek. At first, she had no idea what was happening until KCCU staff announced that she was the OMG! Raffle winner! Watch the video below of the big surprise!
KCCU Gives Back to local teachers with New Grant Program
August 23, 2021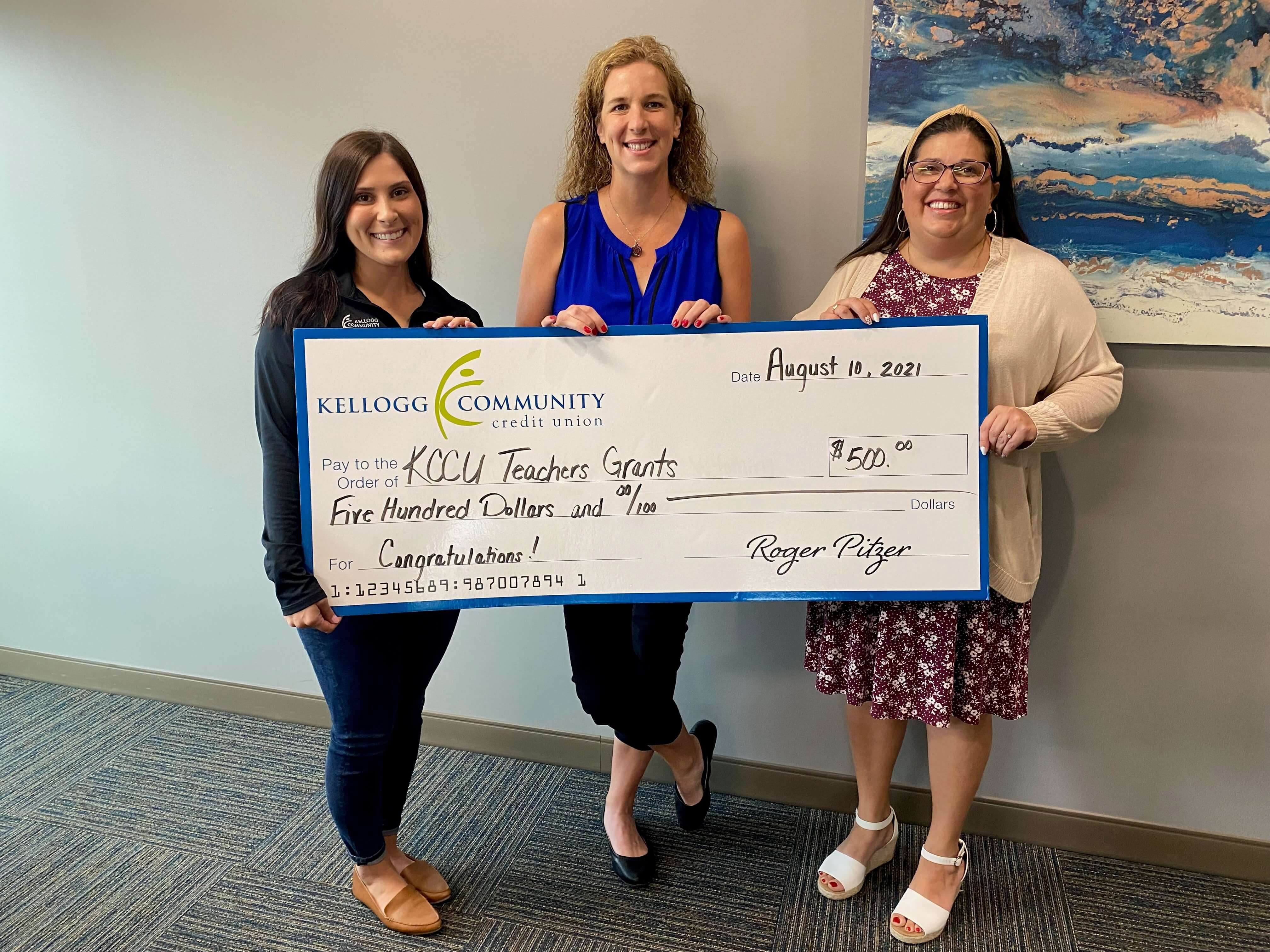 KCCU is excited to announce that we recently awarded 20 teachers throughout West Michigan with grants for their classrooms. We understand that great educators are always looking for innovative ways to expand their instruction to engage their students. With small classroom budgets, teachers often use their own funds to purchase supplies to provide the best educational experience for their students and we wanted to help provide support to these deserving teachers.
In July 2021, KCCU launched a new Teacher Grant Program and committed to giving a total of ten $500 grants to provide assistance to our valuable educators in West Michigan. The response to the new program was overwhelmingly positive. KCCU received so many great applicants that they wanted to do more so they added an additional 10 grants of $100 each, for a grand total of $6,000 in funds going back to the classrooms in the communities we serve!
"At KCCU, we are committed to helping teachers who are educating our students and future leaders," said Tracy Miller, KCCU's CEO. "We know that teachers work hard and put in a lot of time and often their own money to provide the best possible learning experience for their students. Our hope is with these grants educators are able to get the supplies and programs they need so their students can succeed in the classroom."
"Receiving this award will allow my dreams of inclusion to come true," said Kristen Wick, Portage Central Elementary teacher, who is able to welcome students with Autism into her general education kindergarten classroom through a KRESA off-site program. "Inclusive classrooms are welcoming and support the diverse academic, social, emotional, and communication needs of all students. When done right, inclusive classrooms benefit everyone. Structuring my classroom based on TEACCH strategies means that I need supplies to make this happen and with this grant I can now purchase these much-needed items."
The KCCU Teacher Grant Program will be offered annually each summer. The program is open to all educators that teach in the 15 counties that KCCU serves. Visit www.kelloggccu.org for more information and to see the recent winners.
---
KCCU Hosts Essential Goods Drive to support homeless community
July 19, 2021
KCCU is striving to make a difference by giving back and supporting local homeless shelters in all the communities we serve. During the pandemic, many shelters in West Michigan saw the number of families and individuals seeking assistance nearly double and KCCU is stepping up to help by collecting basic essential items the shelters need. We invite our members and the community to join us!
From July 20 – August 20, KCCU will be collecting items such as toiletries, personal hygiene items, nonperishable single serve snacks, new socks, and other basic essential need items. Donations can be dropped off at any open KCCU branch location. All items collected will be distributed to those in need through our shelter partners: Kalamazoo Gospel Ministries, Battle Creek Homeless Shelter, Mel Trotter Ministries in Grand Rapids, and Three River's Domestic and Sexual Assault Services.
"KCCU is passionate about giving back to our communities here in West Michigan and partnering with organizations to help to support the basic needs of individuals. This summer we are proud to focus our efforts to address the urgent needs of those who are homeless or at risk of homelessness," stated Tracy Miller, KCCU's CEO. "I am always amazed at how generous our members and employees are and I know once again we'll come together as a community to provide items for the homeless in our area so we can all make a difference in their lives."
"The help of businesses like Kellogg Community Credit Union is vital in supporting those in our community who are working towards a fresh start," stated Lynn Russcher who is the VP of Advancement at Kalamazoo Gospel Ministries. "As a ministry, we know we cannot do this without the support of generous individuals who have a heart to help. The adage…we are better together, really is truth."
Often, men, women and children who seek shelter do not have the basic items in their possession. By providing basic self-care items to the local shelters we hope to make a critical difference in local shelters ability to serve this vulnerable population. Please join us to help make a difference in these community members lives by donating at a KCCU branch during our essential goods drive. See full details
KCCU Supports The American Heart Association's Kids Heart Challenge
June 4, 2021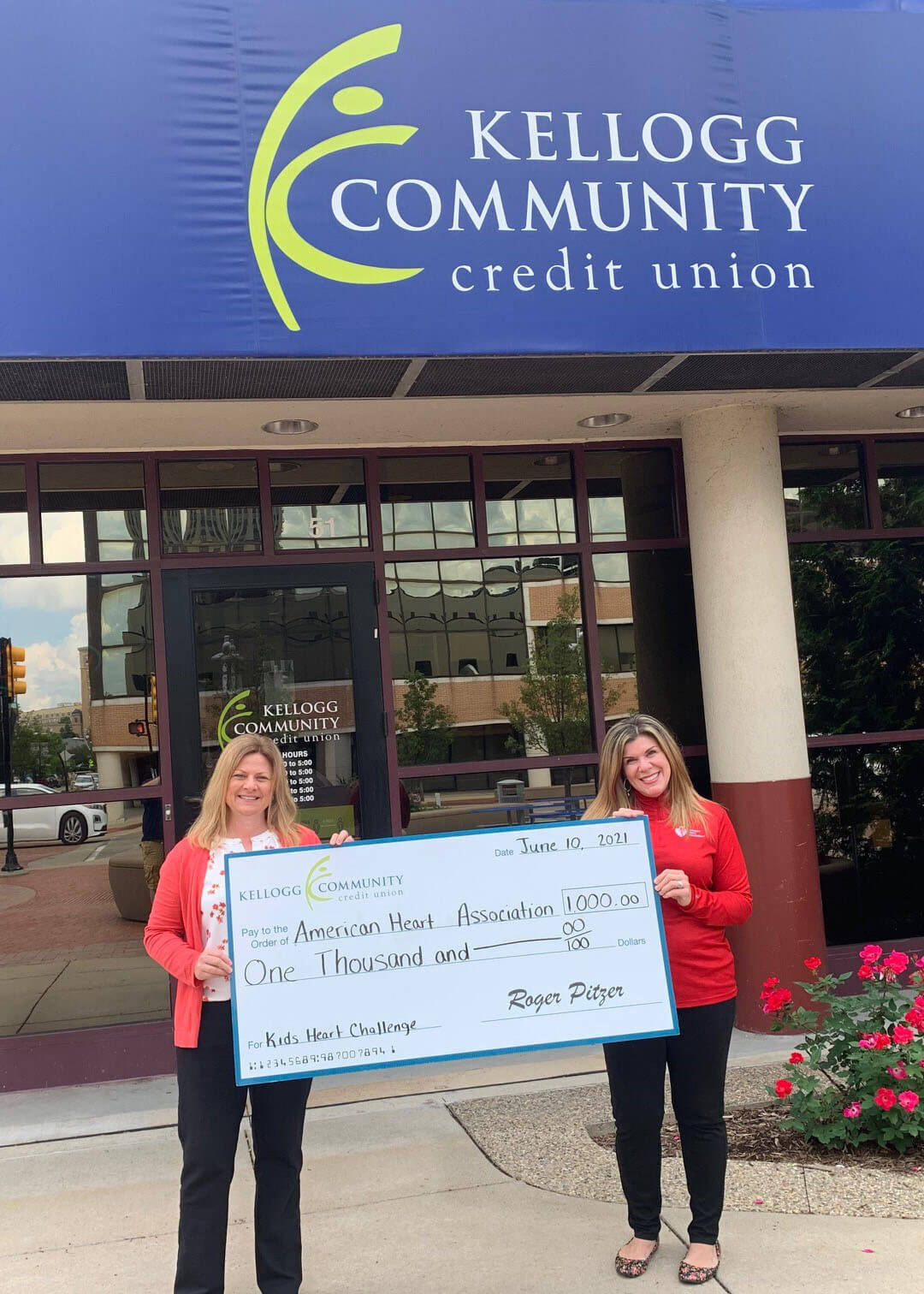 Photo caption: Rori Ross, KCCU's Vice President Marketing presents Margo Tramel, Youth Market Director, at American Heart Association with a check for $1,000.
KCCU proudly donated $1,000 to help support the American Heart Association's (AHA) Kids Heart Challenge. The funds are being used as part of the Adopt a School program and will greatly assist the STEM (science, technology, engineering, and mathematics) Academy in Comstock Public Schools.
The Kids Heart Challenge encourages heart-healthy behavior as students pledge to be more physically active, drink more water and do a good deed. Formerly known as the Jump Rope for Heart Initiative, the Kids Heart Challenge offers four activations to get students' hearts pumping: jump rope, basketball, dance, and an obstacle course-style event, while supporting the work of the American Heart Association.
Over the past year with the Covid pandemic, schools have seen an increase in requests for physical education equipment due to virtual learning and sanitation requirements. To further complicate matters, school equipment budgets continue to decline. KCCU saw an opportunity to help solve this problem by sponsoring the Kids Heart Challenge Adopt a School and they adopted Comstock Public School's STEM Academy with a generous contribution of $1,000 to the American Heart Association. The money will provide education on healthy behavior as well as a gift certificate for the school to purchase PE equipment of their choice.
"Kellogg Community Credit Union is honored to partner with the American Heart Association," said Tracy Miller, KCCU's CEO. "The Kids Heart Challenge helps to support student's physical, social, and emotional health. And with the effects of the pandemic this past year, we understand how crucial it is to support the students and schools in our community. We hope the new equipment that STEM Academy will be able to purchase with our sponsorship money will help the students continue to practice heart-healthy behavior."
"Generous gifts from organizations like Kellogg Community Credit Union, not only raise awareness and vital funds for heart disease research," says Margo Tramel, Youth Market Director at American Heart Association, "but also have a lasting impact in our community and the lives of our next generation."
---
KCCU announces college scholarship recipients
June 4, 2021
We are pleased to announce the 2020 KCCU College Scholarship recipients. The KCCU Scholarship provides $1,000 towards tuition for students attending an accredited Michigan college, university, or trade school. After reviewing all the scholarship entries, KCCU would like to congratulate these five deserving recipients who were selected for their outstanding achievements:
Congratulations 2021 KCCU Scholarship Recipients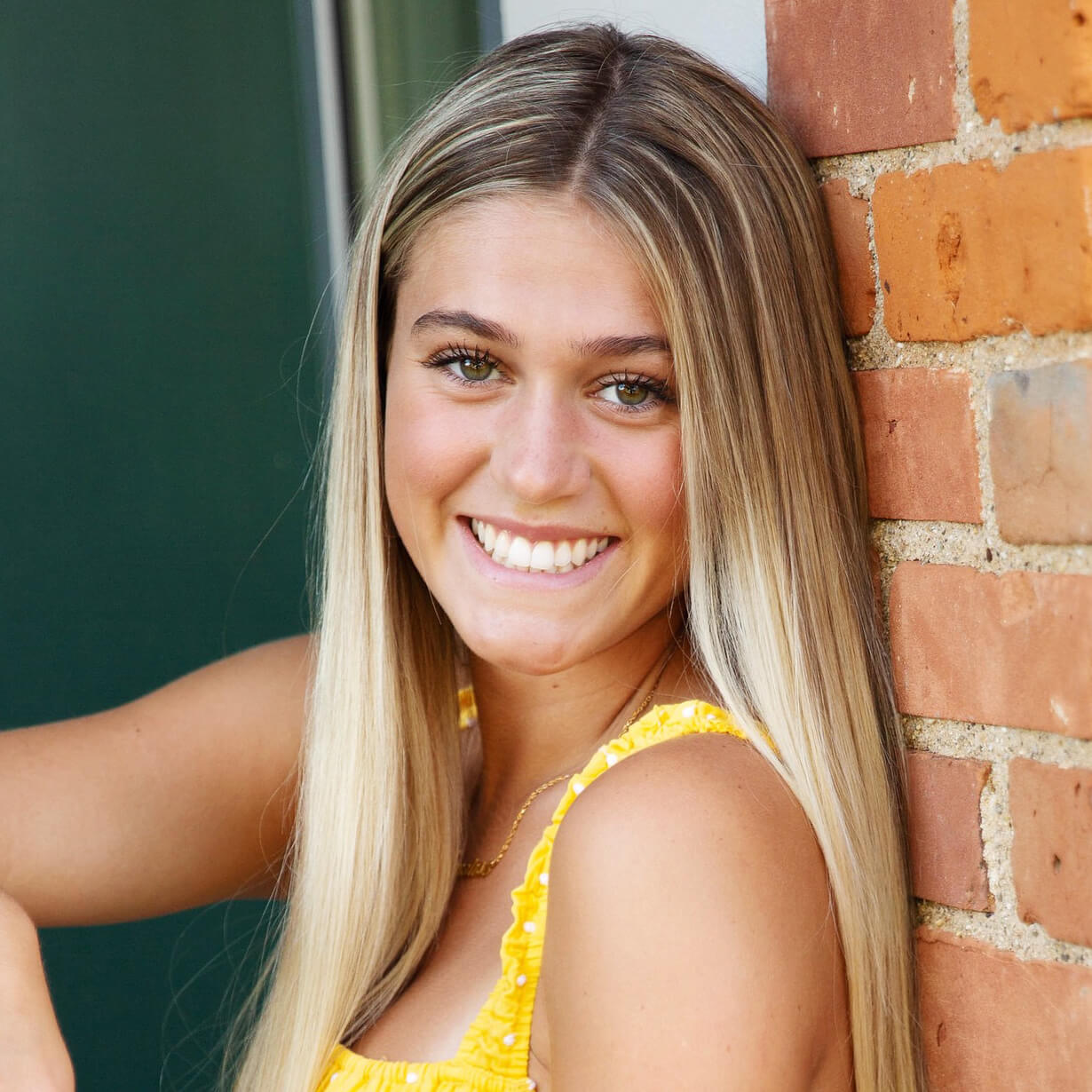 Annalise McKay
Annalise is a 2021 Gull Lake High School graduate, where she played four years of soccer, and was active in the Environmental Club, DECA, National Honor's Society, and Spanish Honor's Society. Annalise will be attending Michigan State University where she plans to pursue a degree in Marketing / Advertising.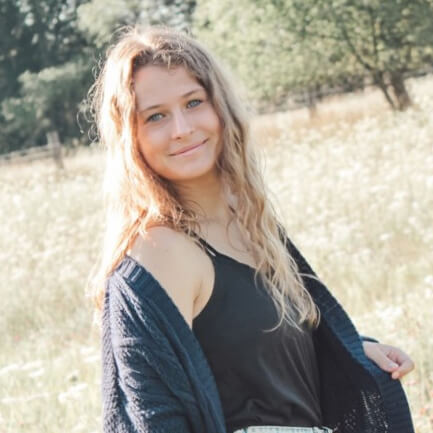 Abbey Hicks
Abbey Hicks is a 2021 Harper Creek High School graduate, where she played varsity basketball. She is active in her church as a worship leader, and participates in prayer group and mission trips. She plans to attend Spring Arbor University where she will pursue a degree in Psychology. Abbey has a passion for helping people and plans to become a licensed therapist.

Joel Metzger
Joel is a 2021 Lakeview High School graduate, where he was varsity captain of the football, swimming, and baseball teams. He was an active member of National Honor's Society, Friends Forever, and Radient Church. He also like to develop apps and successfully created an app used to help sports teams coordinate transportation for players to and from practice. Joel will be attending the University of Michigan in the fall to study Computer Science, Economics, and Mathematics to pursue a career in quantitative trading.

Heather Rose
Heather is a 2005 Pennfield High School graduate. After a decade of being a stay at home mother of two, and Sunday school teacher at her church, Heather decided to return to school to pursue her lifelong dream of become a teacher. She is currently attending Western Michigan University, where she is working toward teaching certificates for grades K-5, as well as a specialty certificate for middle school mathematics. Outside of school and raising her children, she is actively involved in school organizations for both herself and her children. She served as President of the North Pennfield Elementary PTO, President of the Education Club at Kellogg Community College, and President of Kellogg Community College Book Club.

Matthew Dubravec
Matthew is a 2021 Rockford High School graduate. He plans to attend the University of Michigan to pursue a degree in engineering. Outside of school, Matthew is a longtime volunteer ski instructor for Cannonsburg Challenged Ski Association, helping skiers with disabilities. He is also a youth coordinator for his church, a community education soccer referee, and is active member of club sailing regattas.
---
Food Drive a Success
March 24, 2021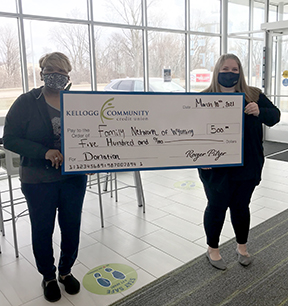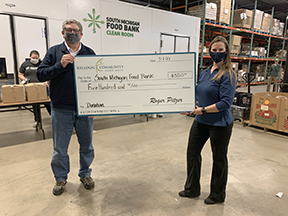 In addition to food donations, KCCU proudly donated $500 to both the South Michigan Food Bank and Family Network of Wyoming.
KCCU hosted a food drive in celebration of National Canned Good month. We invited our members, team, and community to bring nonperishable food items to any branch location during the month of February and monetary donations were also collected through an online donation portal. We are excited to announce the food drive was a great success thanks to all who participated!
We understand that partnering to support local charities makes our communities stronger and is proud to be a longtime supporter of local food banks and pantries to help provide support for those who need assistance in our communities. Since the pandemic started, food banks and pantries have consistently seen an increase in demand, KCCU wanted to help support these essential organizations with a food drive.
KCCU collected over 500lbs of food, and nearly $400 in online contributions. The food and monetary funds were distributed through two partners to help those facing food insecurity in the communities in which KCCU serves; the South Michigan Food Bank, serving southern counties of Michigan, and Family Network of Wyoming, which assists those in the greater Grand Rapids area. In addition, KCCU pledged $500 to the South Michigan Food Bank and $500 to Family Network of Wyoming.
"I am thrilled by the heartwarming generosity of our members, team, and community," said Tracy Miller, KCCU's CEO. "Everyone came to together to help our neighbors in need, so that no person, child, or family facing food insecurity has to wonder where their next meal will come from. We are also grateful for the hard work and dedication that the South Michigan Food Bank and Family Network of Wyoming put forth to help fight hunger in our communities."
"South Michigan Food Bank is so thankful to partner with Kellogg Community Credit Union," states Summer Sunnock, Advancement Director for the South Michigan Food Bank. "As a result of KCCU's commitment to the community, we will be able to provide 4,712 meals! Thank you to KCCU and its members for your generosity!"
Holiday Toy Drive Exceeded Expectations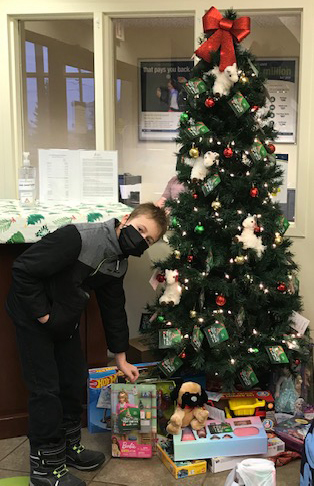 January 3, 2021
KCCU partnered with three organizations to help provide toys for children and teens in need, in our community this holiday season. We set a goal to collect 500 toys, games and gift cards to help support the efforts of the Salvation Army, There's Enough, and the St Joseph County United Way. With generous donations from KCCU members, employees, and board of directors they exceeded our goal by collecting 528 items.
For the eighteenth consecutive year, KCCU was host to the Salvation Army Angel Tree toy drive, utilizing eight of their branch locations throughout Battle Creek, Kalamazoo and Grand Rapids, as drop off locations for toy donations. In addition, KCCU's Three Rivers branch collected toys for the St Joseph County United Way, and Marshall's branch supported the toy drive for There's Enough. KCCU's annual toy drive is a favorite event for employees and members, it is heartwarming to know that by donating a toy, game or gift card you directly affect a child in West Michigan by bringing them the magic and joy of the holidays.
"I am so proud of our members, team, and board of directors, we could not have reached our goal without their generous donations," states Tracy Miller, KCCU's CEO. "The holidays can be hard and especially stressful for those who are in need. This year was particularly challenging for many families impacted financially by the pandemic. We are so grateful for our community partners and that KCCU was able to bring joy to children who otherwise might not have received a gift this holiday season."
KCCU Spreads Kindness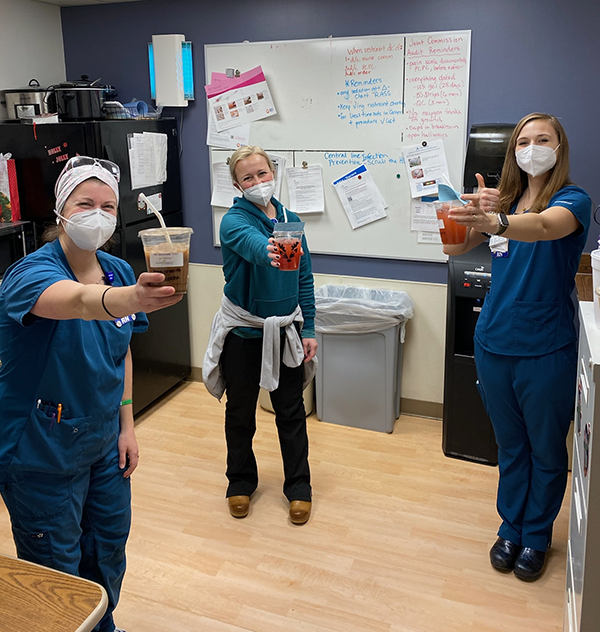 December 22, 2020
KCCU collaborated with local businesses to donate coffee, Herbalife tea bombs, and protein coffee energy drinks to local healthcare workers to show their support for their hard work and dedication during this pandemic.
We partnered with West Main Nutrition in Kalamazoo, and three different Biggby's located in Battle Creek, Byron Center, and Three Rivers to spread some kindness during the holiday season, in appreciation of our local healthcare heroes working on the frontlines in area hospitals. KCCU sponsored the coffee and energy drinks, and our drink partners kindly delivered them to various departments throughout the hospitals to help give the healthcare workers an extra boost of energy during their shift. The local hospitals that received these drinks were: Bronson in Battle Creek and Kalamazoo; Oaklawn in Marshall; Ascension Borgess in Kalamazoo; Three Rivers Health; and Metro Health in Wyoming.
"Our clinical staff is fighting coronavirus daily and caring for very ill patients. It is mentally and physically exhausting," stated Deb Smith, Director of CCU at Oaklawn Hospital, MSN, RN. "Staff are covering multiple shifts and working many hours. The coffee donation that Biggby and Kellogg Community Credit Union provided was a much-needed respite and was greatly appreciated by our staff."
"For the Team at KCCU to be able to show their support and appreciation to our local healthcare heroes working on the frontlines during this pandemic was truly an honor", said Tracy Miller, CEO of KCCU. "The healthcare workers show so much dedication to the members of our community, they deserve many acts of kindness. And it's especially heart-warming that local businesses were willing to partner with us to deliver these drinks. In times like these, our communities show their strength in working together."
Another Successful Charitable Coat Drive
November 6, 2020
KCCU held our annual coat drive throughout the month of October to help the members of the communities in which they serve stay warm.
We partnered with Charitable Union (Battle Creek), There's Enough (Marshall), St. Joseph County United Way (Three Rivers), Salvation Army (Kalamazoo County), and Bethany Christian Services (Grand Rapids), to help members of these communities stay warm this winter. Both new and gently used coats, hats, mittens, and scarves, in sizes ranging from infants to adults, and everything in-between, were collected. Our KCCU Team and Members, as well as members of the community, truly live the credit union philosophy of people helping people as we donated over 366 coats this year and 100+ items such as hats, mittens, gloves and scarves, all to help people in our community stay warm this winter!

Three Rivers Branch Hosts Cat Supply Drive
September 25, 2020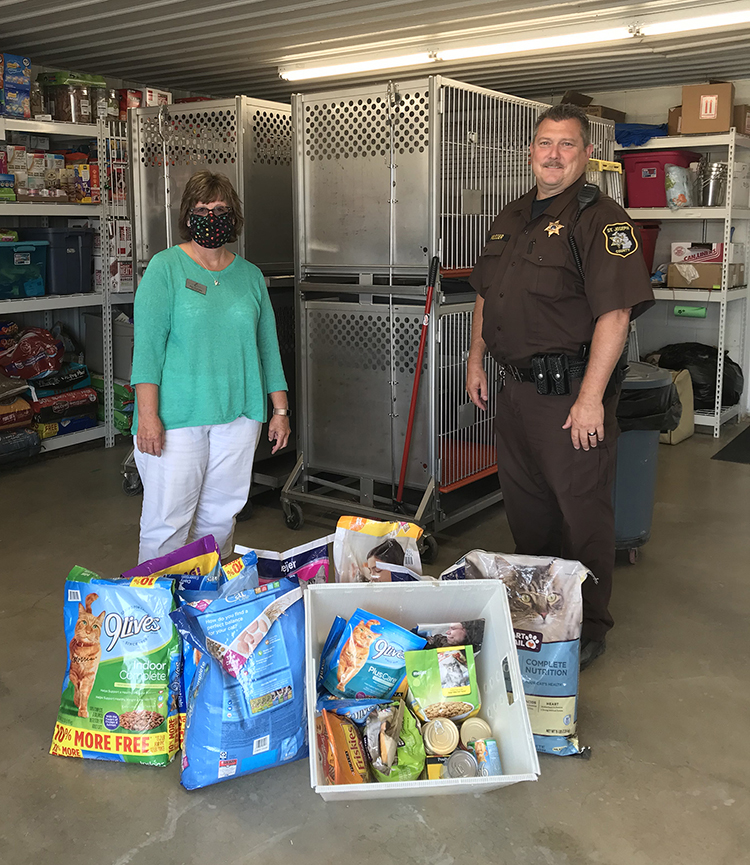 Our Three Rivers Branch recently hosted a successful drive to benefit the St. Joseph County Animal Shelter to assist with their recent acquirement of 150 cats. In just a couple of weeks, the Three Rivers Branch was able to collect 200 pounds of various cat supplies such as food and cat litter.
"Our entire Three Rivers team at KCCU has a soft spot for animals, and when we heard about the hundreds of cats that Animal Control took in due to two local hoarding situations, we knew we wanted to jump in and do something to help," stated Pam Overweg, KCCU's Three Rivers Branch Manager. "It was very heartwarming to see the gratitude and thankfulness from the staff at St. Joseph Animal Control for the generosity our members and staff showed with the amount of donations they provided. Thank you to everyone who contributed!"
"Adopting is one way to help; but it's not the only one. St. Joseph County Animal Control & Shelter relies on donations from our community to help our furry friends. Having quality dog and cat food available for the animals is essential to their health and well-being," stated Julie Sylvain, Support Assistant at St. Joseph County Animal Control. "We really appreciate Kellogg Community Credit Union helping with our over-abundance of animals. It's organizations such as theirs that make being in St. Joseph County such a blessing!"