news
KCCU gives back
Kellogg Community Credit Union is proud to give back to the communities that we live in and serve by supporting the following charitable programs:
The Charitable Union, Marshall Area Community Services (MACS), and Salvation Army – KCCU collected 239 coats for those in need.
Food Drive / Shred Day – KCCU hosted a Community Shred Day and Food drive at two branch locations. 585 pounds of food was collected for local food banks. Plus, 49 trees were saved with the amount of paper that was shredded.
Charitable Toy Drives – KCCU staff and members donated nearly 500 new toys for needy children in our community through The Salvation Army Angel Tree and Firefighters for Santa.
School Donations – KCCU donated $2,500 to local schools as part of a school spirit day.
Service Hours – KCCU team members contributed over 700 hours of their time volunteering for a varity of community events and organizatinos.
United Way – KCCU and its employees generously donated $25,000 to the United Way of Battle Creek and Kalamazoo Region! In addition, we hosted a diaper drive, pop-up giving event, and a book drive to benefit United Way partners.
KCCU also provided support and donations to many other local charities and non-profit service organizations in 2018 such as the American Cancer Society, Children's Miracle Network, the YMCA, The Haven of Rest Ministries and many more.
KCCU's Charitable Coat Drive A Big Success
KCCU partnered with Charitable Union (Battle Creek), St. Joseph County United Way, Salvation Army (Share the Warmth – Kalamazoo County), MACS (Marshall Area Community Services), and Bethany Christian Services (Grand Rapids), to help members of these communities stay warm this winter. Throughout the month of October, both new and gently used coats, hats, mittens, and scarves, that were clean and in good condition, sizes for infants to adults, and everything in-between, were collected. Thanks to the generosity of all who participated, KCCU collected a total of 239 new and gently used coats, along with an assortment of hats, scarves, and mittens, which will be distributed to local families through our partners.

"We, at KCCU, are committed to helping and enriching the lives of others. By participating in these winter clothing drives we can provide much needed support," stated Tracy Miller, KCCU's CEO. "We are pleased to partner with these wonderful charities, and we hope to continue these partnerships for many years to come."
KCCU's vision statement includes "providing opportunity and lifelong value to our members and our community." KCCU takes this statement seriously and has demonstrated their commitment by partnering with local organizations like Charitable Union, St. Joseph County United Way, Salvation Army, MACS, and Bethany Christian Services.
KCCU Donates $2,500 to Local Schools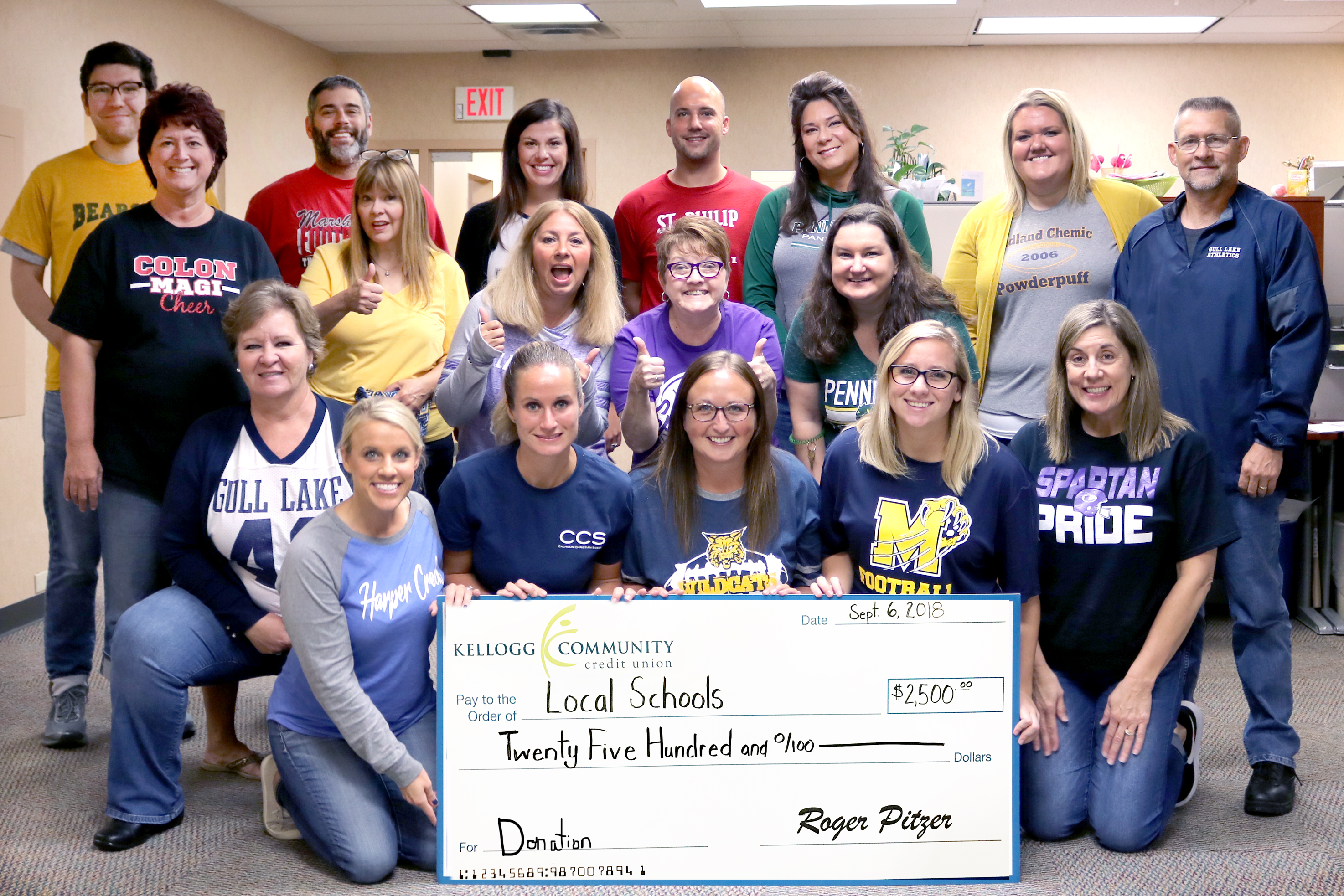 KCCU recently donated $2,500 to local schools. To show support to KCCU's team members and their families, KCCU employees were able to wear the colors or apparel for a school district of their choice on a special school spirit day. In turn, KCCU donated $100 to each school, with a total of twenty-five schools represented.
"We are happy to show support to our employees and their families by donating to their school of choice" said Tracy Miller, CEO of Kellogg Community Credit Union. "We were excited to see all the various schools represented by our employees, and we are pleased to provide assistance to so many different schools in the communities that we serve."
The following school districts received donations: Lakeview, Battle Creek, Harper Creek, Pennfield, Kalamazoo Central, Union City, Coldwater, Olivet, Calhoun Christian, Mattawan, St. Phil, Gull Lake, Colon, Otsego, Factoryville, Quincy, Athens, Lawton, Vicksburg, Schoolcraft, Marshall, Comstock Park, Three Rivers, Lowell, and Parchment.
OMG! My Car is Free? Sweepstakes Winner Announced
We are excited to announce the winners of our recent auto promotion, OMG! My Car (Truck or Bike) is Free? Sweepstakes. Congratulations to mother-daughter duo, Tina and Joy, who were KCCU's lucky winners!
The Sweepstakes ran from April 23 – July 31, 2018. Everyone who financed a new or used vehicle for $7,500 or more were automatically entered into the drawing for a chance to have their vehicle paid off, up to $20,000.
KCCU CEO, Tracy Miller, and staff had a great time surprising our winners, under a ruse that they had additional paperwork to sign. Watch their reactions in the video below.
Two New Branch Locations Now Open!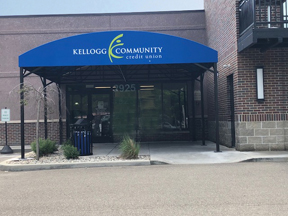 We are excited to share that KCCU has opened two new branches. Our first new branch opened on April 23rd, and is located at 2355 Health Drive SW in the Grand Rapids Metro Marketplace in Metro Health Village.
Our second branch opened on May 22nd and is located at 2925 Oakland Dr. in the Oakwood Plaza next to Sawall Health Foods. This is our fourth branch in the Kalamazoo market.
Both full service locations offer assistance with daily transactions as well as checking and loan services, mortgages, investment services, commercial accounts including lending, and a 24-hour ATM and night depository.
"We are very excited to expand our footprint in both the Kalamazoo and Grand Rapids markets," stated Tracy Miller, CEO of KCCU. "KCCU is growing, and we believe these two areas are perfect for us to expand our services in. We look forward to serving existing members as well as new members and businesses."
KCCU named 2nd healthiest credit union in Michigan
Kellogg Community Credit Union (KCCU) is honored to receive recognition as the second Healthiest Credit Union in Michigan, and ranked 40th in the nation according to DepositAccounts.com.
DepositAccounts.com measures the health of financial institutions by using a proprietary health rating system that assigns an overall letter grade based on a number of factors. They utilize raw financial data published quarterly by the National Credit Union Administration (NCUA) to create their formula. Three key types of data they utilize are deposit growth, the credit unions capital position and the Texas Ratio, which looks at the value of at risk loans compared to the total value of funds available to cover those loans.
To view the entire list of "Healthiest Credit Unions in America," visit www.DepositAccounts.com.