KCCU Announces 2023 Teacher Grant Recipients
2023 teacher grant recipients
August 25, 2023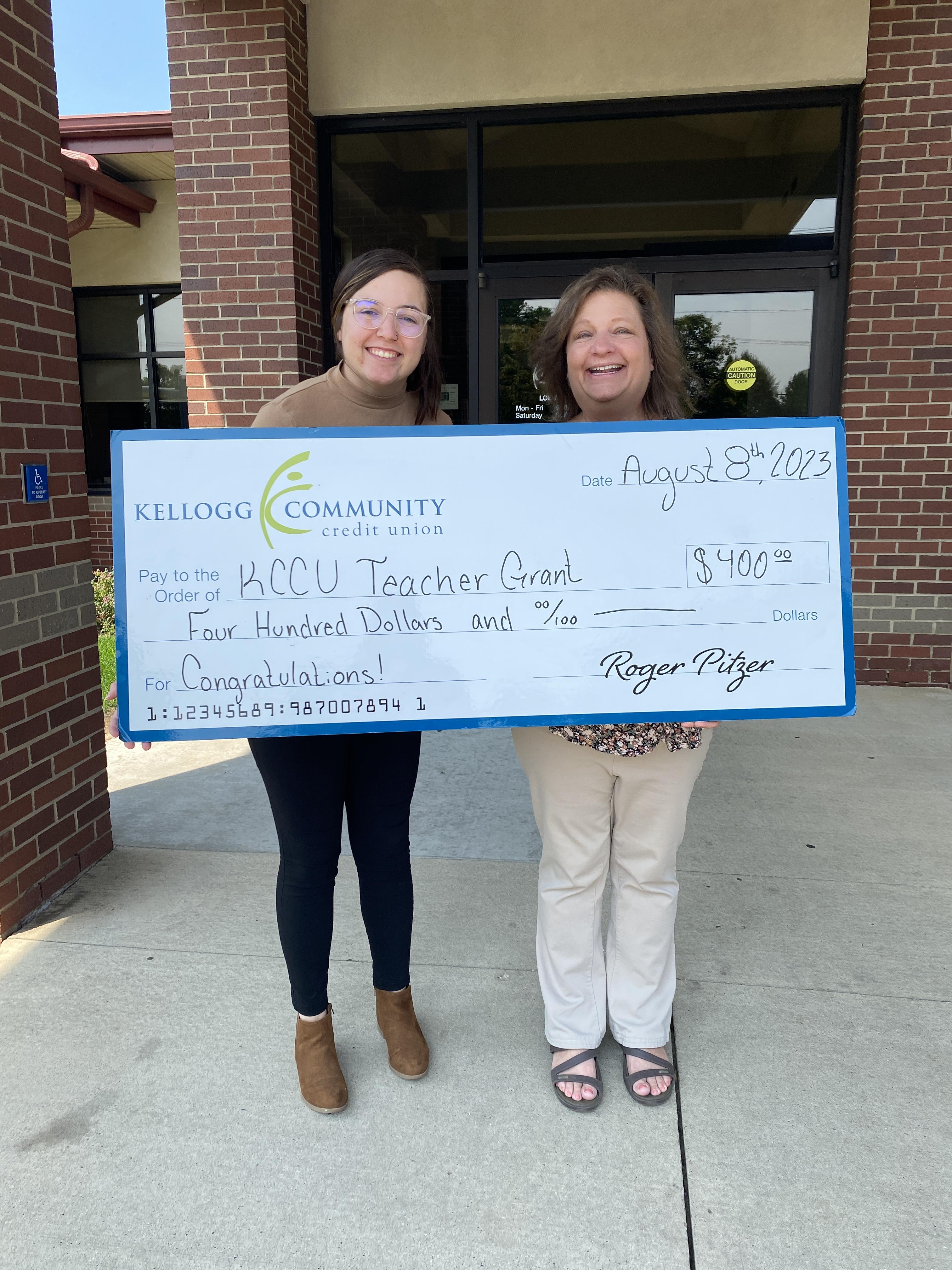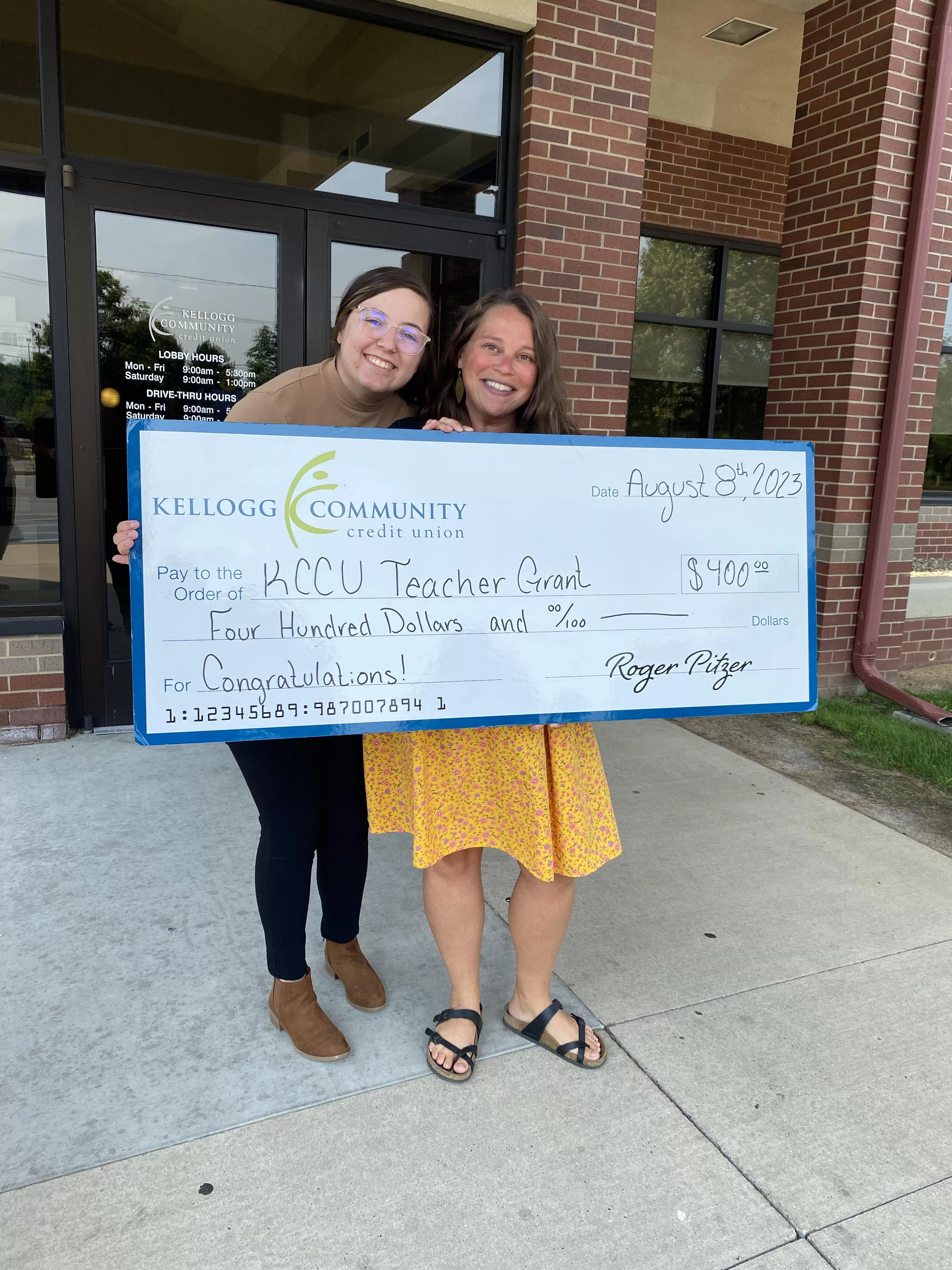 Left: Gillian Wilk from KCCU presents check to Patti Kuenzel. Right: Gillian Wilk from KCCU presents check to Erin Andrews
Kellogg Community Credit Union (KCCU) is thrilled to announce that for the third year in a row, they offered their Teacher Grant Program and awarded teachers throughout West Michigan with grants for their classrooms.
KCCU understands that great educators are always seeking innovative ways to foster impactful learning experiences, and often use their own funds to purchase additional classroom supplies. They wanted to offer support to these deserving educators, and they did by providing funds to fifteen teachers, each of them receiving $400 to purchase classroom supplies. That is a total of $6,000 going back into local classrooms!
"At KCCU, we are committed to helping teachers who are educating our students and future leaders," said Tracy Miller, KCCU's CEO. "We know that teachers work hard and put in a lot of time, and often their own money, to help their students learn and thrive. Our hope is with these grants, educators can get the tools and resources needed for their students to succeed in the classroom."
"I love teaching because I love to share in the joy with other people, especially my students," said Patti Kuenzel, third grade teacher at St. Joseph Elementary and recipient of a KCCU Teacher Grant. "I am going to use my grant money to purchase things like chair cushions, bouncy bands for those kids who have to keep moving their feet all day, and water bottle holders for their desks; all kinds of things to bring joy to the classroom."
"One of the things I love most about being an educator is being able to offer a safe and inclusive space for all students to be able to grow and learn," said Erin Andrews, teacher at North Penn Elementary and recipient of a KCCU Teacher Grant. "I am going to use the grant money to purchase STEM (Science Technology Engineering Mathematics) supplies to help my students with problem solving and critical thinking skills."
Here is a complete list of the 2023 teacher grant recipients
Amber - Parchment Highschool
Erin - Lincoln International Studies
Haylee - Gull Lake Community Schools
Heather - Delton Kellogg Elementary
Jessica - Comstock STEM Academy
Makayla - Norton Elementary
Laura - Union City Elementary
Chelsea - Ann J. Kellogg
Erin - North Penn Elementary
Karen- Harper Creek Middle School
Meghan - Marshall Academy
Shannon - Westlake Elementary
Shayna - Southeastern Elementary
Susan - Mar Lee School
Patti - St Joseph Elementary
The KCCU Teacher Grant Program is open to all educators, Pre-K through grade 12, who teach within the 15 counties that KCCU serves.
« Return to "Blog"