KCCU Gives back to local Community Food Banks
KCCU hosts food drive
March 9, 2023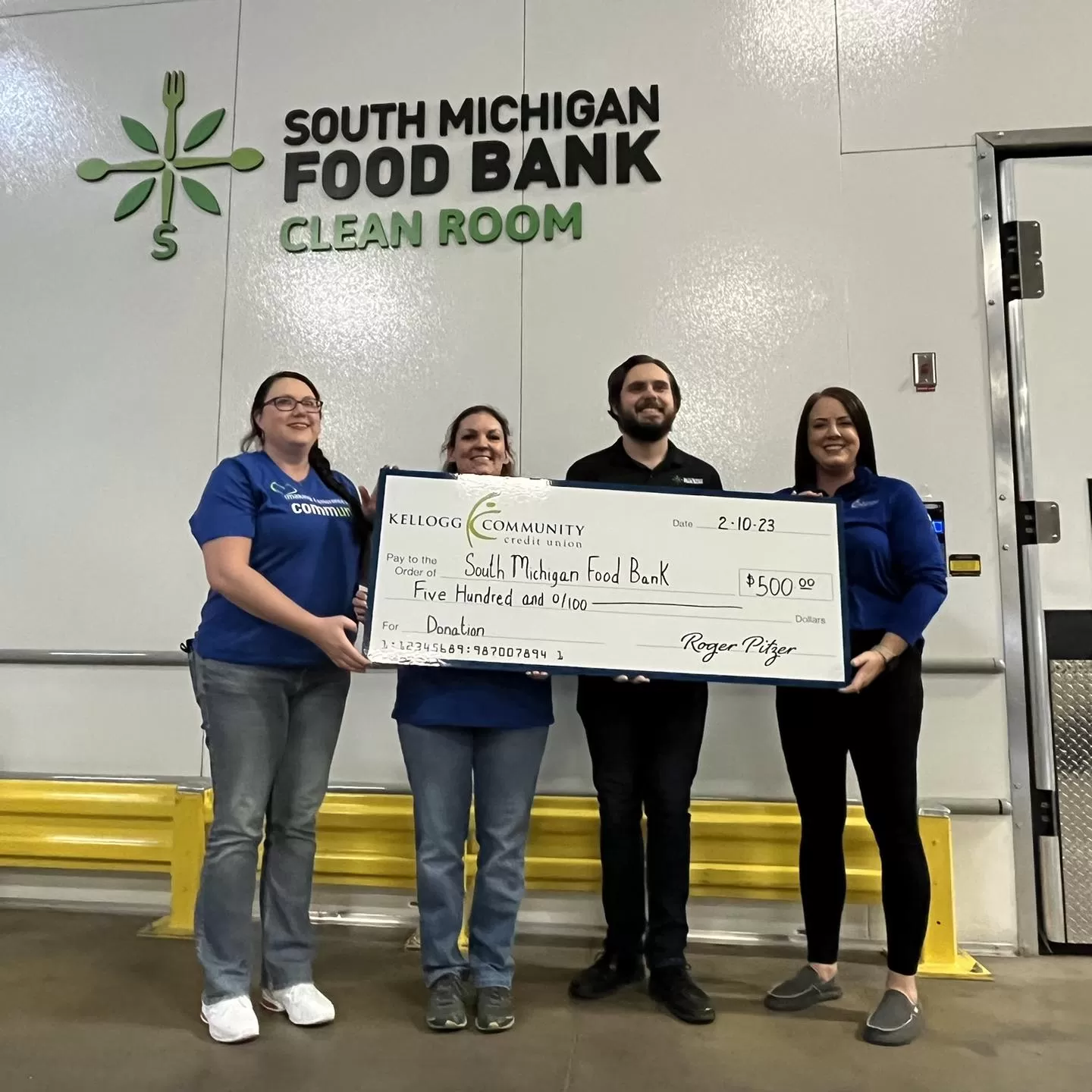 KCCU team members, presented a check for $500 to the South Michigan Food Bank.
To celebrate National Canned Food month, KCCU hosted a food drive during the month of February. We invited their members, team, and community to bring nonperishable food items to any branch location throughout February. The food drive was a great success and will have an immediate impact on the local communities and individuals who are food insecure.
Due to the increasing prices in the grocery stores food banks and pantries have consistently seen an increase in demand. KCCU took notice of this shift and made a commitment to help. Guided by our philosophy of people helping people, KCCU strives to make our communities stronger by offering support to those in need.
In addition to food donations, KCCU pledged $500 to the South Michigan Food Bank, serving the Southern counties of Michigan, and $500 to Feeding America West Michigan, which serves the Western and Northern counties of Michigan.
With food banks and pantries heavily relying on assistance from volunteers to sort and package food donations, KCCU team members stepped up to also volunteer their time at the South Michigan Food Bank, Kalamazoo Loaves & Fishes, and Feeding America West Michigan.
"With the rising cost of food, I am humbled by the success of our food drive and the generosity of our members, team, and the community," said Tracy Miller, KCCU's CEO. "Food is a basic need, and as an organization KCCU wants to ensure we are doing our part to help fill that need, whether it is through food or monetary donations or volunteering our time. We are also grateful to the local food banks who work tirelessly and are dedicated to helping fight hunger in our communities."
"This $500 gift from Kellogg Community Credit Union will help Feeding America West Michigan provide 2,000 meals worth of food to neighbors in need!" reported Susie Dutcher, Corporate Partnership Manager for Feeding American West Michigan.
"A sincere thank you goes out to everyone at Kellogg Community Credit Union!" says Lori Sunie, Director of Development for the South Michigan Food Bank. "We are very grateful to have them as a partner as well as a caretaker for our community! They have provided funds, food, and volunteer time to ensure our neighbors are supported. Their compassion and dedication to a brighter future is to be commended,"
« Return to "Blog"