How to Host a Stress-Free Holiday Meal on a Budget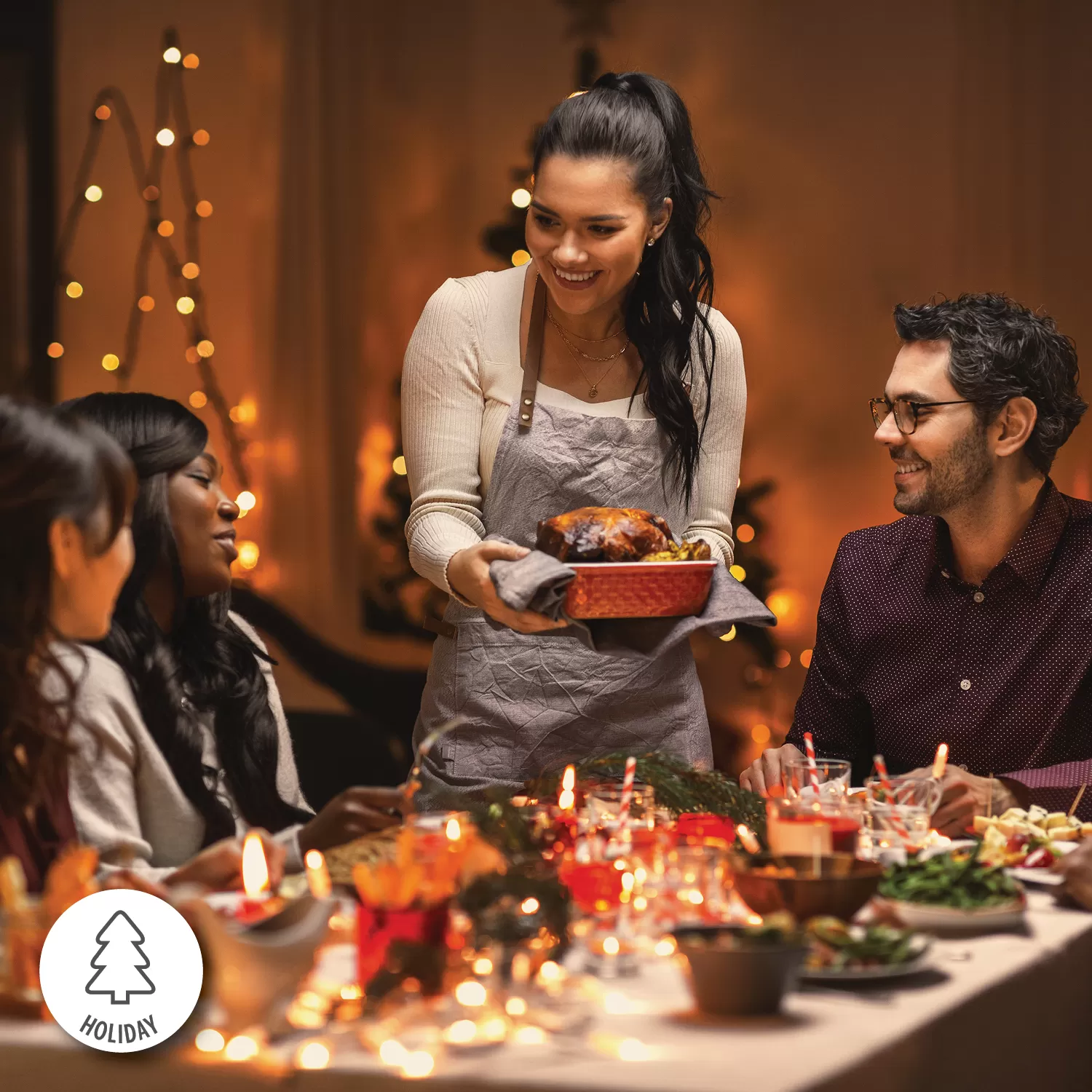 Host a Stress-free Holiday Meal on a Budget
Holiday hosting can be super-stressful – and expensive! This year, with prices soaring at the grocery and beyond, breaking your budget on hosting duties can seem like a sure thing. Lucky for you, here are six ways you can host a stress-free and awesome holiday meal without draining your wallet.
Simplify your meal plan
It's tempting to go all-out while hosting holiday gatherings, but you and your guests will appreciate simplicity. When planning your menu, keep the prep time and cost of each dish in mind. You can limit the side dishes to four, or even fewer, and consider using store-bought shortcuts when the price and quality don't make a significant difference, like pre-made pie dough and stuffing. Keeping it simple is one of the best ways to keep stress levels and expenses to a minimum.
Shop early and use coupons
Plan your menu and shopping as early as possible to take advantage of weekly sales. Check your local circulars and your favorite grocery apps in the weeks leading up to Christmas to see what's on sale each week and to snag coupons for even bigger savings.
Think out of the box for steep savings
Don't assume you need to purchase all the necessities for your holiday meal in the usual manner. Get creative in how you source what you need for lower costs. For example, you can purchase day-old bread from your local bakery to use for stuffing, trim greenery from your own yard to use as decor and consider using chicken for your entree instead of the more expensive (and traditional) turkey or ham.
Accept (and ask for) help
Hosting a holiday meal for a crowd is a big deal, but you don't have to go it alone. Don't turn down offers for help or be afraid to ask your guests to chip in with the preparations. You'll cross a task off your to-do list with each offer and help your guests feel more at home by assisting with the cooking and/or shopping. Your budget and stress levels will thank you.
Set up a smart buffet
If you'll be serving buffet-style, set it up with your budget in mind. Place the less-expensive items, like breads, crackers, and veggies, at the front line of the buffet to encourage guests to fill their plates with them first. Your sides, like cranberry sauce and mashed potatoes, can be set in the center, with the proteins in the back. Dividing the foods this way is economical and convenient for your guests as well.
Break down your schedule
To keep your days – and yourself – calm, break down your to-do list for the weeks leading to the big event into bite-size tasks. Divide the chores according to when they need to be done. For example, you can bake and freeze your breads and desserts weeks in advance, shop for paper goods and decor as soon as you know you'll be hosting and start prepping some food items, like stuffing and salad dressings, several days before the meal.
You can take this one step further by setting up an exact schedule for the day of your event, including what goes into the oven and when, to avoid last-minute personal meltdowns after realizing the bird is undercooked and/or you'll still be busy at the stovetop when your guests start arriving.
Don't forget to take some me-time
The days are packed, and the to-do lists are endless, but don't forget to carve out time for yourself in all the busyness. It can be a 10-minute time-out in your bedroom with a piece of chocolate and a cup of coffee (or glass of wine), a quick walk around the block or a half-hour soak in the tub. Go with whatever helps you feel calm and relaxed – you'll be glad you did!
Don't stress about while hosting on a budget this holiday season. Use the tips here to prepare a great holiday meal without spending a bundle or spiking your stress levels. Happy hosting!
« Return to "Blog"